Antiperspirant against sweating above average on the face and forehead
SweatStop® Aloe Vera Sensitive is to be recommended if you have sensitive skin and sweat even without physical exertion. It stops sweat and odor efficiently. Moreover it provides for a gentle skin care and a 24 to 48 hour active protection. Aloe vera, panthenol (provitamin B5) and other selected additives in the proper formulation guarantees a particularly mild and cultivating application.
Recommended if you have sensitive skin and sweat even without physical exertion. SweatStop® Aloe Vera Sensitive stops sweat and odor efficiently. Moreover it provides for a gentle skin care and a 24 to 48 hour active protection.His-and-hers
Areas of application: Face / head
For sensitive skin
Advantages
Sustainably prevents sweating and odor
Dermatologically tested: "very good"
Best price performance ratio with (£ 9,12 / 30 ml or $ 14.25 / 1.1 FL.OZ. !!!)
Ideal for travel
Provides a 24 to 48 hours active protection
Over-the-counter
Odorless
30 day money back guarantee
Use of SweatStop® antiperspirant against facial sweat
To develop their sweating and odor blocking effect, SweatStop® antiperspirants have to be applied just before going to bed on clean and completely dry skin. In order that the solution can permeate and that the salts can close the pores, anything that could enhance the formation of sweating in the hours after the application needs to be avoided. The application needs to be repeated every 2-3 days. In the morning washing as usual and, if desired, applying a deodorant or a skin care lotion is possible. The effect will become evident after 1-3 applications. In rare cases it may take longer to unfold.
Clean and dry respective part of the skin before going to bed
Apply once
Leave on until completely dry before putting on clothes to avoid stains
Indication for facial application and application on the head (without hair): It is recommended applying the lotion SweatStop® Aloe Vera Sensitive first. Only if required a SweatStop® antiperspirant with a higher degree of intensity like for instance SweatStop® Aloe Vera Forte should be applied. SweatStop® sprays need to be applied with a piece of cotton wool in this case.



Instruction manual
For all SweatStop® antiperspirants please note:

Avoid anything that could enhance the formation of sweating in the hours after the application
Avoid contact with eyes, mouth and irritated or harmed skin
Do not shave respective part of the skin for at least 48 hours before and 12 hours after the application
Let it dry completely before putting on clothes to avoid stains
Keep out of reach of children
Note: For all customers with US delivery addresses only - due to FDA regulation = All antiperspirants are for underarm use only.
SweatStop® antiperspirants are very well tolerated by the skin
The dermatological test was conducted by the limited company DERMATEST® GmbH. All products were rated "very good on skin". No adverse effects were to be found on any of the 30 subjects.
DERMATEST® GmbH, has been conducting tests and clinically controlled medical evaluations of the skin on products of the cosmetic and pharmaceutical industry for over 25 years. They offer a large spectrum of various testing for the determination of product compatibilities and for attestations of effectiveness of cosmetic ingredients.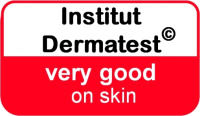 Download Certificates, PDF
Testing Procedure

See 4 samples how the test is conducted:
Ingredients of antiperspirant SweatStop® Aloe Vera Sensitive Lotion
Aqua, Aluminum Chloride, Paraffinum Liquidum, Ethylhexylglycerin, Cetyl Alcohol, Sorbitol, Galactoarabinan, Steareth-21, PEG-8 Distearate, Steareth-2, PPG-15 Stearyl Ether, Cyclomethicone, Glyceryl Stearatese, Panthenol, Ammonium Hydroxide, Glycerin, Aloe Barbadensis Leaf Extract, Chamomilla Recutita (Matricaria) Flower Extract, Phenoxyethanol, Parfum, Methylisothiazolinone, BHT, Limonene, Linalool
Properties of some of the ingredients of SweatStop® Aloe Vera Sensitive Lotion
Aluminum salts are used in the textile and cosmetic industry, where amongst others they are deployed for the production of antiseptic agents or in antiperspirants against excessive sweating. Solutions containing aluminum salts are also offered to treat little inflammations in the throat area.

The medical virtues of Aloe vera has been known and been used for more than 5000 years now. The beneficial properties of the plant can be attributed to its high content of active agents.

Aloe vera disposes of following main properties:
Anti-inflammatory
Regenerating and cultivating
Soothing
Immunizing properties
Decade-long research proved that the substance extracted from the leaves has manifold effects. It acts as an anti-inflammatory, germicidal, haemostatic, painkilling, antipruritic and has a wound healing and anti-ageing effect amongst others.
Aloe Vera contains a considerable percentage of water. It hydrates and conserves the humidity of the skin. Because the substance essentially constrains the activity of bacteria, healing processes are distinctly accelerated. Thus it is often used for the regeneration of tissue, against ulcers, burns and neurodermatitis.
It contains magnesium lactate, an itch inhibitor bringing in relief to insect bites, acne, sunburns and rashes. Moreover, the substance strengthens the immune system and enhances well-being.
As a result of all these properties, Aloe Vera is widely spread and used for medicinal and cosmetic purposes nowadays.
Panthenol (Provitamin B5)
Panthenol is an active agent that has been used for a long time now for topical application. Pantothenic acid (Panthenol) is a component of the coenzyme A and therefore plays an essential role for skin metabolism. Panthenol increases the capacity of the skin to sustain humidity and thus disposes of cultivating properties and improves the elasticity of the skin. Moreover it supports the regeneration of skin cells. In addition Panthenol disposes of anti-itching and anti-inflammatory properties. Clinical research confirms a support of wound healing of the skin and also of mucosa lesion through Panthenol. The active agent is used as an ingredient for skin lotions e.g. Bepanthen, lozenges, nasal sprays or eye drops by many manufacturers.

Application Area

Forehead, Face

Subject Area

Sweating

Your Degree of sweating?

strong

Product Type

Antiperspirant

Dosage Form

Lotion

Brand

SweatStop®

For

Unisex

Volume

100ml

Fragrance

Without
Have you seen?
Customers who viewed this product also viewed the following products.